A digital native too!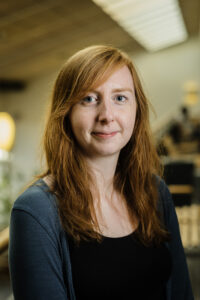 Pleased to meet you.
My name is Katie, and I am a freelance translator for German and Italian to English, based in Munich.

I have been doing freelance work for a year or so and previously was a project manager in a translation agency.
I also work in a start-up.
What I do
I translate in a variety of fields and work with many types of text.
Thanks to years of client-facing experience in account manager and project manager roles, both B2B and B2C, and my MSc in Management, I am particularly adept at understanding my audience and adapting my communication style to best reach them. My preferred fields of translation include marketing & PR, management & business including corporate communication and contracts, and arts and culture.
My areas of personal interest include travel, photography and design, technology & internet, and health and fitness.
If you have a project in these areas please don't hesitate to request a quote – I would love to work on your project.
Technology is no longer a specialisation but a fundamental part of the way we interact with the world. In fact, HTML and CSS were the next languages I began learning after starting obligatory French classes in school (thanks, MySpace).
I use Computer-Aided Translation (CAT) tools to aid the fast and accurate translation of a wide variety of text formats. I can work with DTP programs, HTML/XML and other localisation formats such as JSON.
A brief background
Freelance Translation
ImpressioNative, Munich, Germany
· Translations & proofreading German/Italian to English for agency and direct clients.
· Text types: press releases, product descriptions, cultural programmes, instruction manuals, contracts, corporate communications…
Selected Professional Experience
Translation Project Manager
Allround Service, Munich, Germany
· Processing translation projects from quotation to delivery and feedback.
· Proofreading of translations in many subject areas including financial, legal, medical and social research.
Multilingual Account Executive  
BI Worldwide, Newport Pagnell, UK
· Customer & client service via email in English, German, Italian and Spanish.
· Resolving issues in sales data and system configuration
· Updating website and databases
Internship—Translation
EXACT! Sprachenservice, Mannheim, Germany
· Translations German to English
· Terminology research
· Alignments of English, German and French texts
Education
MSc Management   
Lunds Universitet, Sweden
· Courses on leadership, marketing, strategy, project management, managing teams, management accounting etc.
BA German and Italian
University of Manchester, UK   
· Exchange Semesters in Perugia, Italy & Mannheim, Germany
Looks good…